There are many ways you can support RCS Learning Center. Whether you're able to make a financial donation, provide an in-kind donation of supplies or products, volunteer your time or attend an event, your generosity enables us to continue to provide the highest quality of behavioral and educational services to our students.
For more information or to discuss how you can help, please contact us at info@rcslearning.org.
In Kind Donations
RCS Learning Center is h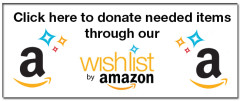 appy to share our new online wishlist on Amazon.com! We are excited to use this tool to let you know about our most updated wants and needs for our school, and will continue to add and remove items throughout the year!
Fundraising Events
RCS Learning Center hosts a variety of different fundraising events throughout the year and each event provides numerous opportunities for sponsorship, donations of goods and services, and volunteer support. Please contact Chrissy King at 508-650-5940 or cking@rcslearning.org to learn more.
Volunteer Opportunities
RCS welcomes individuals and groups willing to volunteer in different capacities to support our school. Click here for more information.
Box Tops for Education
Send your Box Tops to RCS Learning Center! Clip your Education Box Tops found on thousands of products and help us raise funds that will purchase much needed supplies and materials for our school.
A+ School Rewards
Participate in the A+ School Rewards campaign by shopping at Stop and Shop. A+ School Rewards are rounded per transaction to the nearest whole dollar amount. At the end of each month, the money spent will be automatically credited to RCS Learning Center.

Support the Annual Appeal

Your gift will help to support two specific goals which benefit all of our students – increase funds for the Vocational Program and purchase a new school van.
Together, these will expand community access, job training, volunteering and paid employment opportunities. Support from donors like you allows all of our students to engage in the community, strengthen their abilities, and prepare each student to progress towards independence.
Your generosity is greatly appreciated!

Make a Donation
 
Online  – Click your donation amount above and follow the steps to complete your donation.
Mail – Mail a check made payable to RCS Learning Center Annual Appeal to
RCS, 6 Strathmore Road, Natick, MA 01760.
Phone – Contact the Development Office at 508-650-5940.