SMART Transformations
for RCS Learning Center Classroom!
Together with the generous support from RCS Learning Center parents, Jimmy Kambutu and Milka Mwaura we are creating Smart Transformations for our classroom!  The Smart Transformations fundraiser will support the purchase of a new Smart Board for a classroom at RCS Learning Center!  With your support, new technology will bring the classroom to life by enhancing lessons and engaging students.  Our dedicated team of staff, special education teachers and clinicians will be able to transform the daily programming into even more exciting, fun and interactive lessons for our students!  Our classroom transformation will help support our students learn new and important skills!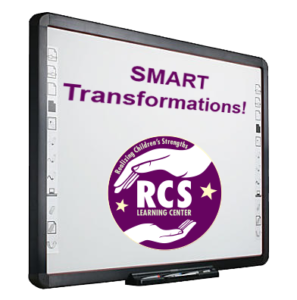 We thank you for supporting our mission to ensure Progress for All Children! 
A special thanks to Jimmy Kambutu and Milka Mwaura for coordinating the
fundraising efforts for RCS Learning Center!