As a leader in the education of children with special needs, we are always seeking qualified, hardworking individuals to join the RCS family and be part of our growth and success!
Are you interested in working in a supportive environment with an outstanding team? Are you interested in receiving your Master's degree in Behavior Analysis from Simmons University at an extremely reduced cost? RCS is hiring for a variety of different positions including: ABA Behavior Therapists, Special Education Teachers, BCBAs and Interns!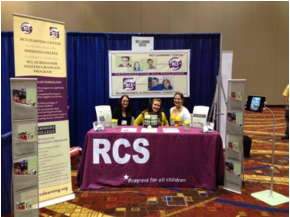 We are currently accepting resumes for the following positions:
ABA Behavior Therapist
ABA Behavior Therapists complete a comprehensive training program conducted by BCBA's on staff and are provided with ongoing training on a weekly basis. Our specialized trainings prepare Behavior Therapists to apply for the BACB's newest credential, Registered Behavior Technician (RBT). Behavior Therapists are supervised by a BCBA and work directly with children. Behavior Therapists are responsible for implementing acquisition and behavior programs, data collection, graphing, and working collaboratively with other specialists (OT, SLP) and families. Candidates must enjoy working with children, have a Bachelor's degree, and preferably have experience in Applied Behavior Analysis or a related field. Candidates with an Associate's Degree and experience may be considered.
Board Certified Behavior Analyst
ABA Supervisors must be efficient in creating and supervising the implementation of comprehensive ABA programs, completing functional behavior assessments, and developing and monitoring behavior plans. Candidate must be motivated with managerial, communication, and time management skills. Must have a Master's Degree and be a Board Certified Behavior Analyst or Board-Eligible. Fluency in a second language is beneficial, but not required.
Special Education Teacher
ABA Special Education Teachers work in conjunction with the Program Managers under the Supervision of the Educational Administrator to develop curriculum units, write Individualized Education Plans (IEP's), align curriculum with Massachusetts Curriculum Frameworks, and comment on student's progress. The Special Education Teacher will work with the RCS Clinical Team to organize educational assessments, placement tests and the development of IEP's. Candidate must enjoy children, have a Bachelor's degree and the necessary certification, and preferably have experience in Applied Behavior Analysis.
Interns — Including Clinical, Marketing and Human Resources
The opportunity to gain work experience and transferable skills, develop new skills and refine others, be able to experience a prospective career path, gain practical experience by applying methods and theories learned in classes. You will also get the valuable workforce tool of networking with professionals in your field, references and future job opportunities! RCS Interns would be responsible for observing different student groups ranging from ages 3-22 within the different RCS environments, working with a selected group of students during times when extra help is needed, assisting Program Managers and Special Education Teachers in collecting data, completing school projects as needed, completing overall school tasks such as sorting mail, shredding, copying, and data entry. Candidates must enjoy working with children, and be working towards a Bachelor's or Master's degree, and preferably interested in Applied Behavior Analysis. Internships are available for each semester ranging from 2-5 days a week.
Benefits of Working at RCS:
Exposure to a variety of settings
Comprehensive and ongoing trainings
Opportunities to attend professional conferences
Supportive environment and exposure to a variety of clinicians
Excellent benefits
On site Simmons Program- in an environment of employees that are in or have graduated from the Simmons Master's Program in Behavior Analysis
RCS offers competitive salary, excellent benefits for eligible employees including:
Medical and Dental Insurance
Generous Vacation, Holiday and Personal Time Off
403B Retirement Fund
Group Short Term and Long Term, Group Life and Accidental Death and Dismemberment, Accident and Individual Term Insurance
On Site Child Care- Reduced Tuition for RCS Employees
Refer a Friend Program
On-Site Simmons Program
Are you interested in receiving your Masters in Behavior Analysis from Simmons University at a reduced cost? Details below: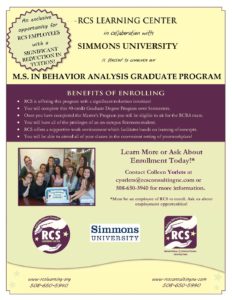 Employee Testimonials:
Working at RCS Learning Center has provided both exceptional training in the field of ABA as well as a broad range of experiences. The experiences have proven not only to be occupationally rewarding but also personally rewarding. It is such a nice feeling to know that when a student comes to RCS Learning Center they will show improvement. One of the reasons I decided to become a behavior therapist at RCS was their use of ABA techniques and procedures, their behavior model and emphasis on verbal development. It had been a year and a half since I have started here and in that time I have seen countless successes with children and their development. I would recommend RCS Learning Center to parents as well as fellow therapists.
– Behavior Therapist
I have worked for RCS for almost six years. RCS Learning Center provides the best quality of learning that proves to be highly effective for our kids. I am continually learning through weekly staff trainings that help me improve my teaching skills in order to give the children the best learning environment I can. I really enjoy working with the staff and more importantly – the kids. It's a fun, up-beat atmosphere to work in and I'm proud to be one of the many behavior therapists that work here.
– Behavior Therapist
RCS is a pleasant work atmosphere. People greet you with a warm smile and everyone is very understanding and helpful. RCS has an abundance of extra support and help when needed. If you have a question, there is always someone to go to. If that person doesn't have it, they will help you find it. And the Simmons grad program is a definite perk!"
– Behavior Therapist
"The bond between staff members makes the work environment a family. Each and every person here is truly invested in our student's progress".
-Behavior Therapist